Extra Curricular Information
Outside the classroom there is a full range of extra-curricular activities available with something to suit everyone:
Amnesty International Group
The Amnesty International Group meets every Friday lunchtime and consists of volunteers.  The group campaigns for human rights around the world. Activities recently have included a talk on ethnic cleansing, making a video called Be Happy Iran, writing letters and organising assemblies to educate the students.  All are welcome to join the group and is ideal for those wanting to do Politics, History, Media or English at university.

Creative Writing
There is a weekly lunchtime workshop for those keen on creative writing and extending their experience of English.  Sometimes the session will be on a writing skill and the group will then use it in ensuing workshop activities, on other occasions a story or poem will be discussed.  The group is open to anyone and is suited to those studying English or Creative Writing at university.
For many years now, the Associated Sixth Form has been taking students to a writing centre for a week in the Summer term to develop their writing skills.  The centre used is Ty Newydd at Criccieth – the National Writers' Centre for Wales, and also the former home and final resting place of David Lloyd George. The purpose of the week is to work in a creative environment with professional writers: novelists and poets and is particularly suited to any student wishing to take an arts-based degree including Drama and, obviously, Creative Writing.
Debating Society
The Sixth Form debating club is a small but thriving group that meets at lunchtimes on a weekly basis. Most weeks we prepare a debate on an agreed, usually topical, subject. The format of the debate varies, though we often hold parliamentary-style debates so we can include as many people as possible. We also enter competitions, such as the ESU Mace, so there are opportunities to compete against other schools. We also hold informal (but nonetheless competitive!) inter-school debates a few times a year.
Debating develops important skills, such as constructing an argument, thinking on your feet and communicating clearly to an audience. These skills are invaluable at school, university and beyond. At the very least we encourage you to come along and see what we do. In time we hope that you will have a go. Debating is a skill, so while it will probably be nerve-wracking at first, practice makes a huge difference. In any case, it is always carried out in a supportive, friendly and good humoured environment. Debating Club is an always enjoyable occasion.
PPE Society
Politics, Philosophy and Economics are all popular and successful A Level subjects, which many of our students go on to study at university. To promote wider interest in these areas, a group of students has formed a small committee called the PPE Society. The purpose is to invite well-known figures from the world of current affairs to give talks on topical questions. We aim to hold a couple meetings per year, usually after school. Being involved in the PPE Society is a great opportunity to promote your organisational skills. We hope to attract students from a wide range of subject backgrounds, so promoting the talks is very important. Being involved also means that you will meet some really interesting people at first hand! Our inaugural talk was given in November 2016 by Hilary Benn, MP. Since then we have heard talks from Professor Kate Pickett, former Education Secretary Nicky Morgan, MP for Selby and Ainsty, Nigel Adams, and former Deputy Director-General of the BBC, Mark Byford. You are welcome to join a small, but thriving Society at the cutting edge of current affairs.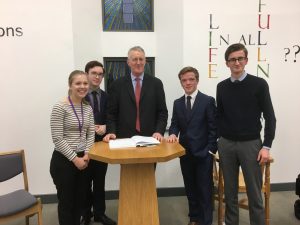 Drama
Drama is thriving in the Sixth Form with energetic support from the A Level Drama and Performing Arts groups.  Recent productions include West Side Story, School of Rock and Sister Act. A student-led group, Bedlam Theatre Company, also stages studio performance work. Recent productions include R C Sheriff's Journey's End and an adaptation of Fielding's Novel The History of Tom Jones. For more information email bedlamtheatrecompany@staidans.co.uk
Duke of Edinburgh Gold Award
St. Aidan's offers Sixth Form students the opportunity to complete their Gold Duke of Edinburgh Award. This prestigious scheme is well established at St. Aidan's and has been so popular with students at both Bronze and Gold level that St. Aidan's became a Licensed Duke of Edinburgh Centre in 2014.
The Duke of Edinburgh Scheme is an excellent way for students to meet new people in the Sixth Form; to find new opportunities; to develop skills, interests and also strength of character in all sorts of ways. In an increasingly busy and paperwork filled world the Expedition in particular offers students a uniquely independent experience, to get out by themselves and to explore the wilder British countryside, providing a real sense of challenge and achievement.
The Award is non selective, anyone can take part. Students undertake a Skill, Physical and Service for a period of time between six and eighteen months which they will arrange themselves. Often students are able to incorporate activities and interests that they already pursue. The Expedition section is arranged by St. Aidan's and involves a training weekend in the Lake District, a practice in the Yorkshire Dales and final expedition in the North Yorkshire Moors as well as training sessions throughout the year. While the Award demands commitment from students the rewards are undeniably worthwhile. Both employers and universities value the Award and recognise the many positive qualities and skills that students develop by undertaking it.
The Residential is an additional section for the Gold Award and an excellent opportunity for students. Past students have arranged and completed a wide variety of projects in very diverse destinations. From volunteering on a safari in South Africa, to completing pre medicine courses at a University, to taking part in a Tall Ships sailing week to France or a National Trust project in Devon.
Language Trips to France, Spain and Germany
Students in Year 12 take part in our annual visits abroad on programmes designed to enhance their language skills, to help them engage with current issues and to develop a love of the country and culture.
French Work Experience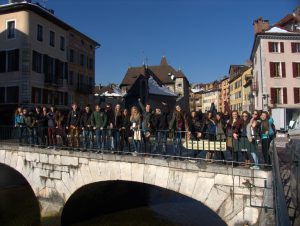 In January a group of around 30 students take part in our long established exchange with a Lycée in Annemasse, a town in the foothills of the Alps. Staying with a host family, students spend some time getting to know the local area and often go skiing, snowboarding and sledging with their partner before starting a 5 day work placement. We have links with a wide range of employers such that you can choose to go to a lawyer's office, the local newspaper, a primary school or even the ski hire shop. French students return to Harrogate in late April to work and explore the area.
As Year 12 student Johnny Barton said, "C'etait la meilleur expérience de ma vie!"
Spanish trip to Madrid and Salamanca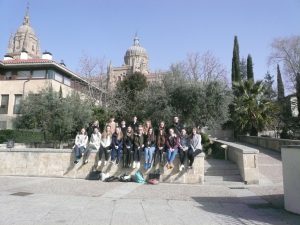 The week after February half term around 25 students set off to Spain for a week-long trip. In Salamanca students stay with a host family and attend 4 hours of classes every morning at the renowned ISLA language school located in the heart of the historic town centre. The course mirrors A level Spanish and is taught by Spanish teachers entirely in target language. After an essential siesta, afternoons and evenings are given over to activities such as: a salsa dance class; a tapas tour; a debate about bullfighting with the president of the Salamanca Bullfighting Association; a 'Mikro-teatro' drama presentation; a paella meal … and much more. A day spent in Madrid at the end of the trip takes in all the key sites and some retail therapy.
Many students return to Salamanca again in their own time to take further courses. We have also had students do a year abroad at Salamanca University and former student Katie MacCallum is working as an intern at ISLA on her year abroad!
German trip to Cologne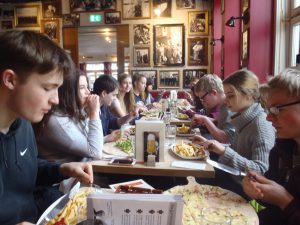 The German trip takes place in February timed to avoid carnival week. A group of around 15 students fly Leeds to Düsseldorf and stay in a very sleek, modern youth hostel in the centre of the city. Students have a travel pass and use the tram, train and bus network to move around Cologne, a city that offers both classic historical Germany and super-efficient modern German living. Morning classes are held in the CDC language school and afternoons and evenings involve diverse visits to: the lindt chocolate factory; a hands-on science centre; a typical 'Kneipe' to eat 'Flammkuchen'; a visit to the recently discovered secret Gestapo detention centre; a train trip to Bonn to visit the 'Haus der Geschichte' all about German re-unification.
Students return fired up with enthusiasm for the culture and efficiency of German life. As Conor Mulhall said, "das war fantastisch!"
Music
St Aidan's has a national, if not international reputation for the quality and breadth of their musical activity. Those moving to the Associated Sixth Form from other schools are as welcome as any other student to join our musical ensembles.  There may be entry requirements or auditions for some ensembles. If you would like to join a group, check the music pages of the school intranets and websites, the Music Department notice boards, or speak directly to the music staff.
The Chamber Choir of St. Aidan's have reached the finals of the National Festival of Music for Youth,  achieving the Outstanding Jazz Award in recent years. The St. Aidan's Symphonic Wind Band and Chamber Choir have also performed at the Royal Albert Hall and the Chamber Choir has been seen regularly in the finals of the BBC Songs of Praise Choir of the Year Competition. In November 2011, we were delighted to be invited to the Schools Proms in the Royal Albert Hall which saw the Chamber Choir and Jazz Orchestra at St John Fisher performing together in a show-stopping collaboration. St Aidan's regularly takes part in other national competitions with various ensembles competing at the highest of standards. In 2015 St. Aidan's ensembles were invited to three separate categories at the National Festival in Birmingham, the Chamber Choir being given an award for innovation. There really is an ensemble for everyone at St. Aidan's with Ukulele groups, percussion ensembles, rock bands and Steel Pan ensembles to name but a few, suiting all tastes.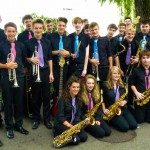 Choral singing is a definite strength at St Aidan's, enabling choirs of senior students to participate at the highest level, locally, nationally and internationally. As well as these staff-organised ensembles, many students naturally form their own groupings, from string quartets to rock bands. There is a strong tradition of large-scale collaborative ventures.
Frequent overseas tours are undertaken by music groups. Musicians from St Aidan's have recently toured to China, the Swing Band at Montreux Jazz Festival, visits by the Chamber Choir to Tuscany, and the Symphonic Wind Band and Swing Band touring to Lake Konstanz.
Extra-curricular performing arts are especially strong at
St. Aidan's, regularly staging major musicals. In recent years, we have staged Les Miserables, Evita, Copacabana, West Side Story, School of Rock and in 2018, Sister Act.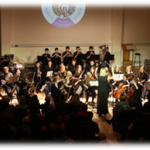 In addition to all the above, St Aidan's has a flourishing orchestra, band, choirs and other instrumental ensembles which operate locally, nationally and internationally.
Being a faith schools, we have a thriving worship group with St. Aidan's leading worship with their in-house worship band "Aidan's Flame".
For more information please contact Mr Pallant (Director of Music,
St. Aidan's) or email us at music@staidans.co.uk
Peer Listening
By volunteering to take part in Peer Listening our Year 13 students get the chance to give something back to the school and help the newest members of our community. As Peer Listeners the Sixth Form students sit with the Year 7's at lunch time to help them out in lots of different ways; whether it's with their homework, finding their way around, improving their confidence or simply keeping them company. It's important to everyone at St. Aidan's that each student feels that they are valued as an individual and can find support easily whenever they need it. By encouraging Year 13 and Year 7 to work together we create a really positive and co-operative environment. It also helps the Sixth Formers when they apply to university as it demonstrates how responsible they are and builds lots of different skills like empathy, communication and teamwork.
Senate
Senate are a body of 11 St. Aidan's students who represent the Sixth Form, school and St. Aidan's & St John Fisher Sixth Form Association throughout their year in office. Elected by staff and students, Senate meet weekly, deliver assemblies, support school functions, help at parent's evenings, PTA events and organise events for the Associated Sixth Form.
The main charity event is Children in Need Day and last year Senate organised different activities for the afternoon. There was a charity auction, a quiz for over 300 students took place in the café, 5-a-side football games were played on the astroturf, a classroom was turned into a cinema and students did their own take on the TV game show 'Would I Lie To You?' The whole afternoon was a huge success, raising well over £3000.
St. Aidan's Senate and St. John Fisher Congress join together to make Year 13s last term at school unforgettable. Last year they organised and ordered around 700 leavers' hoodies and leavers' books, filmed and made leavers' videos and organised a leavers' ball which took place post exams.
Ski Trip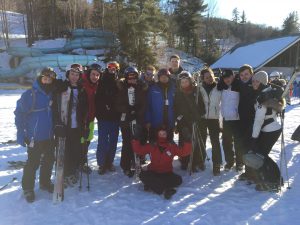 In recent years the popular Sixth Form ski trip has been to a number of different resorts, including the extensive Obertauern ski area, close to Salzburg in Austria, and most recently to the resorts of Wildcat and Attitash in New Hampshire, USA. This latest trip also included a day of sightseeing in the beautiful city of Boston. The ski trip caters for students of all abilities: beginners learn together on the nursery slopes before heading further up the mountain, whilst more experienced skiers developed advanced techniques including skills required to master off-piste terrain.
Sport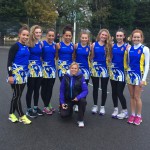 In the Sixth Form we offer a varied and successful range of sporting opportunities. We believe in inclusive sport for all but also strive for excellence with all our sports teams. The wide range of sports on offer here includes:
Football, Netball, Basketball, Hockey, Rugby, Golf, Fitness, Dance, Badminton and Tennis.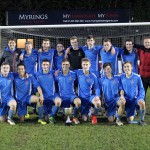 Our teams have been hugely successful in the past, we are regular County and regional winners in many of the sports on offer here. Last year we reached the Yorkshire Rugby Semi Final and our Netball team did well in the County Tournament. Our clubs and practices are well attended and make use of all the facilities we have available at the school.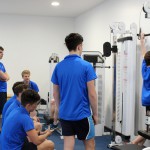 There is also the opportunity to develop leadership and coaching skills by assisting with lower school teams in any sport that we can offer, this is something many of our students take up.At St. Aidan's we have a Fitness Suite which is available to Sixth Form students to use at lunchtime and after school. We have state of the art Precor CV machines and resistance machines for weight training available for use.
Year 12 Politics, Economics and History Trip to London
Each year a group of about forty students from across the Associated Sixth Form enjoy a three day trip to London in July.  The centre-piece of the trip is always an excellent guided tour of the Palace of Westminster. Following the tour, the local MP for Harrogate meets the students for a question and answer session. We have often been taken to the magnificent St Stephen's Chapel below Westminster Hall, and sometimes we have been invited onto the Commons terrace. Apart from Parliament the Politics and History students visit the Churchill War Rooms, while the Economics students are taken on a walking tour of Canary Wharf. In between we usually manage to fit in visits to the Imperial War Museum, Trafalgar Square, Buckingham Palace and Westminster Cathedral. In the evenings we go to two West End shows.It is always a memorable trip, enjoyed by everyone. It is highly recommended for anyone studying Politics, Economics or History in Year 12.
Year 12 Geography Trip to Iceland
Each year the Geography department offer the opportunity for Geography and Geology students from the Associated Sixth Form the chance to visit Iceland. The trip runs after the AS modules have finished during the enrichment period (normally early July).  Last year's trip went for four nights which allowed students to see some of Iceland's main geographical sights. Around thirty students normally come on the trip which costs around £900, it is a perfect trip for students interested in Geography, Geology and the great outdoors!
Year 12 Politics Trip to USA
Since US politics is now a significant component of our A Level studies, in the July of Year 12 we offer a trip for Politics students to New York, Philadelphia and Washington. Our first stop is the 'Big Apple' where, among other things, we cycle in Central Park, take a boat to the Statue of Liberty, enjoy the view from the top of the Empire State Building, watch a Broadway show and visit the 9/11 memorial / museum. From New York we travel to Philadelphia to visit the historic Independence Hall and Liberty Bell. We then continue to Washington where we stay close to the White House. From there we are able to explore the sights of the National Mall (including the Smithsonian Museums, Washington and Lincoln Memorials, and Korean and Vietnam War Memorials) as well as a having a guided tour of the Capitol Buildings. If time allows we also take a trip to Arlington Cemetery. While signing-up for this trip is not an essential requirement of studying Politics A Level, for those who choose to go it is an enriching experience not only in terms of understanding the American political system, but also in terms of American history, society, economy and culture.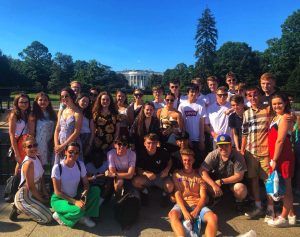 Zawadi
This is a St Aidan's charity run by students which fundraises for Craft Aid International; we support Neema Crafts in Tanzania who employ many deaf and disabled people, allowing them to support themselves and their families.  The charity raise funding through various events, within school as well as at local churches; thereby raising awareness of the impact Zawadi and Neema Crafts have in Tanzania.  Through the funds raised by Zawadi the project in Tanzania has become self sufficient with a fully operational physiotherapy centre. In 2015 Zawadi are starting a new project with Craft Aid International in Peru to set up a similar centre to find employment for deaf and disabled people.