Previously known as St Aidans PTA (Parent Teacher Association)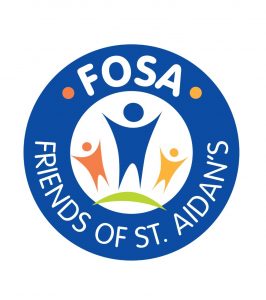 Chair: Jane Reigner/Jen Winterschladen
Vice Chair: Catherine Bolton
Secretary: Karen Winspear
Treasurer: Jane Regnier
Vice Treasurer: Janet Hill
Marketing: Cath Harrison
Uniform Exchange: Jo Smith/Jane Kennerley
FOSA's aim is to raise funds for additional and replacement facilities at the school.
All parents and guardians automatically become members of  FOSA when their children join the school. The FOSA Annual General Meeting is held in the Autumn term and everyone is welcome to join. Alternatively, all parents and guardians are warmly invited to come along to any of our regular meetings, which are held in the staff room once every half term.  These meetings are advertised by parent email and on Facebook and Twitter.
We understand that St Aidan's parents all lead busy lives, and might be concerned about taking on additional commitments, but even the offer of help on one event can make all the difference, and won't enter you into a lifetime of obligation!
We are always interested in new fundraising ideas so please contact us with any ideas and we look forward to seeing you at one of our events.
If you have any questions or would like to get involved with any event, please get in touch with us via school.
FOSA facebook page: @friendsofstaidans
News
Can your business or the business you work at help St Aidan's?
Friends of St Aidan's (FOSA) are a group of less than 10 parents who organise fundraising events for the school. Most recently these events have included: The Year 7 Family Quiz, Three Peaks Challenge, The Bollywood Bash and The 2017 Glitter Ball.
In the last two years, thanks to all the people who came, or sponsored or donated to our events FOSA has raised nearly £30,000 for the school. These funds have been donated back to the school in a way that can benefit as many children as possible including £22,000 for the replacement mini bus and sports team kit.
How can you or your business help?
We are looking for businesses to kindly donate prizes suitable for a silent auction or large raffle prize. Can your business help please?
Alongside our lead sponsors, Ethos Asset Finance and Raworths Solicitors, of the FOSA Winter Snow Ball, we are also looking for local businesses who would like to have their brand or organisation associated with this exciting event by becoming secondary sponsors.
Please contact us if you think you might be able to help FOSA@staidans.co.uk
Recent Events
The 3 peaks challenge was completed with huge success raising over £5,000 for FOSA and Franks Fund.  Everyone who took part in the challenge were amazing and their determination to complete the gruelling challenge was to be admired.
Forthcoming Events
Snow Ball
Thank you to all those people who have already purchased tickets to the Snow Ball later this term, we have had an amazing response so far.
For those who aren't aware, the Friends of St Aidan's (our school PTA) is organising a Black Tie Ball on Saturday 30th November. It will be held in Constance Green Hall at school from 7pm. It promises to be a superb evening, and will include a three-course dinner, plus a live band and entertainment. All profits from the event will be donated back to the school in a way that will benefit as many children as possible.All parents, guardians, staff and friends of the school are warmly invited to come along and support the school at the Ball.
Thank you so much to our main sponsors, Raworths Solicitors and Ethos Asset Finance, to our two secondary sponsors and to all those people who have generously donated large raffle prizes for the evening. If your business would like to benefit from this event, and you'd like to give something back to the school at the same time, then we'd love to hear from you as we're still looking for more secondary sponsors and for more raffle prizes.
We're now taking orders for individuals, couples, groups or full tables of 10. Tickets cost £50 per head. Please email FOSA@staidans.co.uk to purchase your tickets. We only have six tables left so please book your space before it's too late!
Many thanks,
Your Friends of St. Aidan's
FOSA AGM
What Do We Do?
Easy Fundraising
There's now a really easy way you can help to raise money for your school each week — it's completely free and it only takes five minutes to set up.By registering with easyfundraising, the UK's leading good cause cashback site, every time you shop online with one of their partners the school will receive a free donation.  So far 3,100 retailers are signed up including Amazon, John Lewis, booking.com, Jacks Wills and more.
How do i do this?
1. Sign up to support Friends of St Aidan's (FOSA) here: http://www.easyfundraising.org.uk/causes/friendsofstaidans-fosa
2. Shop online as normal and raise donations from 3,100 retailers.
Uniform Exchange
Please bring to school any good quality, second hand items with name tags removed which will be sold at Parents' Evenings and New Starters' Evenings. Prices are amazingly good value and all proceeds go into FOSA funds.