Previously known as St Aidans PTA (Parent Teacher Association)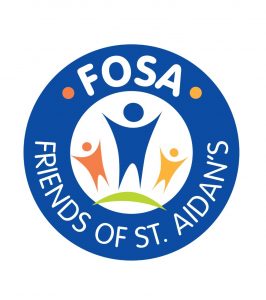 Chair: Phil Chadwick
Vice Chair: Alex Johnson
Secretary: Annie Chadwick
Treasurer: Cecilia Warren
Marketing: Kate Caine
Uniform Exchange: St Aidan's CE High School (Harrogate) Uniform Exchange via Facebook 
FOSA facebook page: @friendsofstaidans
News
Can your business or the business you work at help St Aidan's?
Friends of St Aidan's (FOSA) are a group of less than 10 parents who organise fundraising events for the school. Most recently these events have included: Family Fest, The Year 7 Family Quiz, Three Peaks Challenge, The Snow Ball, The Bollywood Bash and The 2017 Glitter Ball.
In the last three years, thanks to all the people who came, or sponsored or donated to our events FOSA has raised nearly £30,000 for the school. These funds have been donated back to the school in a way that can benefit as many children as possible including £22,000 for the replacement mini bus and sports team kit.
How can you or your business help?
We are looking for businesses to kindly donate prizes suitable for a silent auction or large raffle prize. Can your business help please?
Alongside our lead sponsors, Ethos Asset Finance and Raworths Solicitors, of the FOSA Winter Snow Ball, we are also looking for local businesses who would like to have their brand or organisation associated with this exciting event by becoming secondary sponsors.
Please contact us if you think you might be able to help FOSA@staidans.co.uk
Past Events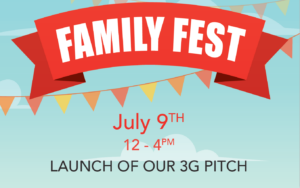 On July 9 2022,  Friends of St Aidan's School (FOSA) organised a celebration of the school's fabulous brand new 3G pitch. The pitch has been in the planning for six years, so it was a special day for the St Aidan's community and will also benefit the wider community as the demand for all weather facilities in Harrogate is huge!
The sun shone down as footballers from Year 7-10 battled it out to win the St. Aidan's Challenge Cup while hundreds of spectators cheered them on. There was a delicious BBQ courtesy of Andy Annat and Crackerjack BBQ, Kele Beans Coffee served Iced Coffee to keep everyone cool and there were many stalls and attractions including a gigantic Inflatable Football Darts Board!
St Aidan's is known for its musical talent and the brilliant band 'Three Strikes' were there bringing the element of Fest to the day with some smooth classics. Your Harrogate's Alex Cann kept event running smoothly compering the entire event and chatting to the special guests in attendance.
These included Harrogate Town Captain Josh Falkingham who delighted the crowds by watching some of the football and signing autographs. He had a great welcome from one of the Year 9 teams who had decorated their shirts in his honour with the words 'We Love Josh Falkingham'! They were victorious and Falkingam was, of course, thrilled to present them all with medals.  Year 13 student, George Horbury who has recently been signed by Harrogate Town FC provided inspiration to the young footballers on the day and presented the Year 7s with their medals.  Former England and Leeds Utd player Danny Mills was another star attraction and performed the Year 8's prize giving.
FOSA, staff and students of St. Aidan's were delighted with the event as both a fundraiser for the school and for the feel-good factor it brought. As the Red Arrows graced the blue skies above Constance Green Hall's Clocktower the day was complete!  Funds are currently still coming in for this fundraiser but we will update with the final amount raised soon.
Forthcoming Events:  We have a few events in the pipeline and we will update you as we know more.
Next Meeting: Monday 12th September, St. Aidan's School Main Hall 7pm
20 June 2022 meeting minutes can be found here.
What Do We Do?
Easy Fundraising
There's now a really easy way you can help to raise money for your school each week — it's completely free and it only takes five minutes to set up.By registering with easyfundraising, the UK's leading good cause cashback site, every time you shop online with one of their partners the school will receive a free donation.  So far 3,100 retailers are signed up including Amazon, John Lewis, booking.com, Jacks Wills and more.
How do I do this?
1. Sign up to support Friends of St Aidan's (FOSA) here: http://www.easyfundraising.org.uk/causes/friendsofstaidans-fosa
2. Shop online as normal and raise donations from 3,100 retailers.
Easyfundraising and Amazon Smile
Uniform Exchange
Please bring to school any good quality, second hand items with name tags removed which will be sold at events such as Parents' Evenings and New Starters' Evenings. Prices are amazingly good value and all proceeds go into FOSA funds.