Previously known as St Aidan's PTA (Parent Teacher Association)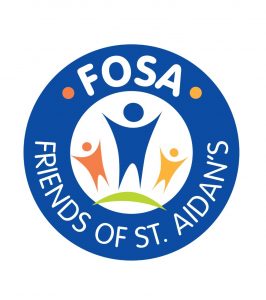 Chair: Phil Chadwick
Vice Chair: Alex Johnson
Secretary: Annie Chadwick
Treasurers: Cecilia Warren/Heidi Kendrew
Marketing: Kate Caine
Uniform Exchange: St Aidan's CE High School (Harrogate) Uniform Exchange via Facebook 
FOSA facebook page: @friendsofstaidans
News
Can your business or the business you work at help St Aidan's?
Friends of St Aidan's (FOSA) are a group of less than 10 parents who organise fundraising events for the school. Most recently these events have included: Family Fest, The Year 7 Family Quiz, Three Peaks Challenge, The Snow Ball, The Bollywood Bash and The 2017 Glitter Ball.
In the last three years, thanks to all the people who came, or sponsored or donated to our events FOSA has raised nearly £30,000 for the school. These funds have been donated back to the school in a way that can benefit as many children as possible including £22,000 for the replacement mini bus and sports team kit.
How can you or your business help?
We are looking for businesses to kindly donate prizes suitable for a silent auction or large raffle prize. Can your business help please?
Alongside our lead sponsors, Ethos Asset Finance and Raworths Solicitors, of the FOSA Winter Snow Ball, we are also looking for local businesses who would like to have their brand or organisation associated with this exciting event by becoming secondary sponsors.
Please contact us if you think you might be able to help FOSA@staidans.co.uk
Past Events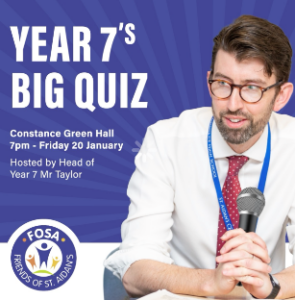 FOSA Year 7 Quiz
Friday 20 January 2023 saw the return of the FOSA Year 7 Quiz an event that is held with the aim of introducing those newest to the St Aidan's school community to other families. Hosted by Quizmaster extraordinaire and Head of Year 7 Mr Taylor, the evening was a great success with almost 200 people attending.  Along with the quiz, there was tombola and sweet stall for the students and a bar for the adults.  Everyone had a fantastic time and a delighted 7G were crowned Year 7 Quiz winners and presented with a shiny trophy!
The evening raised around £800 which will be put towards a new outdoor area and equipment at school which is currently in the planning stages. If you would like to donate towards this new facility, you are very welcome to do so via ParentPay – anything you can give would make a big difference and FOSA thank you in advance for these donations.
FOSA would love new members to join their small but friendly team and particularly need someone with accountancy skills. If you could help give any time at all, please do get in touch by emailing marketing@staidans.co.uk.

Family Fest 8 July 2023, 12-3pm
Following a hugely popular first event which marked the launch of the new 3g pitch last year, Friends of St Aidan's (FOSA) held the community event Family Fest on Saturday, 8 July.
This year the event was to be a fundraiser and an excuse to bring together the St. Aidan's Community and welcome incoming Year 7 students and their families. All funds will be going to a new outdoor area complete with table tennis tables, table football and picnic benches which will benefit all students.
The torrential rain and thunderstorms on the day didn't stop a determined committee going ahead with the event but stalls were swiftly brought inside. The Year 11 Aidan's Flame set up in Constance Green and played their party set list throughout the event together with Alex Cann from Your Harrogate Radio compering on the day.
Guests a plenty came and sampled the cake stall, sweet stall, BBQ while having a cup of tea or coffee. Chess and ping pong also kept a few students out of the rain. The preloved uniform stall and tombola were as popular as ever and St. Aidan's Librarian, Mrs Kennerley was delighted as she sold many books!
Meanwhile, the hardy PE staff were battling with the elements on the 3G pitch running football for Year 6 and 7 and the inflatable obstacle course appeared to be more like a slip and slide! The main thing was that everyone had fun and FOSA were delighted that they made £1000 to go towards the funds for the new outdoor area.
This event couldn't have gone ahead without the support of Caretakers, PE staff, TAs, Teachers, Students and our community partners at Pannal Ash Junior Football Club and Harrogate Rugby Club.
FOSA would love more members to join their friendly team, so they can continue to raise funds which can be spent on things that enhance the experience our students have at St. Aidan's during their time here. If you would like to join FOSA, please email marketing@staidans.co.uk
Forthcoming Events:
Next Meeting: Year 7 Quiz which will take place on Friday 19 January.
Minutes from the meeting which took place on 12 October 2023 are here
What Do We Do?
Easy Fundraising
There's now a really easy way you can help to raise money for your school each week — it's completely free and it only takes five minutes to set up. By registering with Easy fundraising, the UK's leading good cause cashback site, every time you shop online with one of their partners the school will receive a free donation.  So far 3,100 retailers are signed up including Amazon, John Lewis, booking.com, Jacks Wills and more.
How do I do this?
1. Sign up to support Friends of St Aidan's (FOSA) here: http://www.easyfundraising.org.uk/causes/friendsofstaidans-fosa
2. Shop online as normal and raise donations from 3,100 retailers.
Uniform Exchange
Please bring to school any good quality, second hand items with name tags removed which will be sold at events such as Parents' Evenings and New Starters' Evenings. Prices are amazingly good value and all proceeds go into FOSA funds.