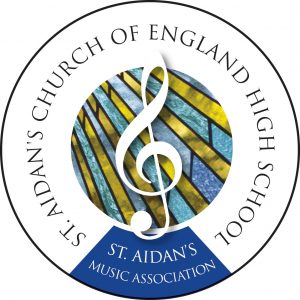 Registered Charity Number: 1033783
The next SAMA meeting will take place on Tuesday 28th January, 7.30pm in the Library.
Chair – Rachel Anslow
Vice Chair – Kit Turnbull
Treasurer – Kerry Kidd
Secretary –  Cerys Gill
Director of Music – Mark Pallant
Committee
Alison Dickson
Janet Feather-Moore
Ruth Harrison
Liz Hawkes
Kellie LaBonte
Teresa Robinson
Frances Romanec
Andy Williams
Contact email: sama@staidans.co.uk
About The Music Association
St. Aidan's Music Association (SAMA) is a registered charity set up to support the choral and instrumental work of the school music department which provides fantastic experience and performance opportunities for all those who take part.  Membership of the Association is open to parents and carers of members of the many school music ensembles. The committee meets every half term.
We provide valuable help to the music staff at concerts setting up, selling tickets and providing refreshments and stage management. We also help raise vital funds to support the provision of wonderful musical opportunities and activities for our children.
Recent projects our funds have supported include new instruments and equipment, including the music trailer and coach travel to the National Festival of Music for Youth in Birmingham.