Here at St. Aidan's Church of England High School our aim is to ensure that the transition from Primary to Secondary school is as smooth as possible for the children and families who are joining our community.
We recognise that the step up to Secondary School is an important change.  We work hard through our Transition and Induction process to get to know all of the students who will be joining, to help them settle quickly and happily into life at St Aidan's when they enter into Year 7.
Communication
Once our Year 7 places have been offered and confirmed we begin communicating with our parents/carers and new students through post and email.
Our communication will provide a wealth of information regarding the Transition to St Aidan's, including:
Year 7 Handbook with details on school uniform, equipment, the curriculum, behaviour expectations, food, homework, behaviour expectations and who is here to help at school.
Our Home School Agreement.
Invites to our Meet and Greet evenings.
Details regarding our Transition Day.
Important Administration information such as Registration forms and details regarding ParentPay.
Invitations to concerts/events over the Summer Term that we think our new Year 7s and their parents/carers may like to attend.
Key information for the first day of term.
Primary School Visits
During the Summer term we visit all of our new students in their Primary School. We typically visit between 50-60 schools and start our visits before the May half term.
During our visit we will talk about St Aidan's and what will happen on Induction Day.  We will have a question-and-answer session with the students, and we will talk to their Year 6 teacher.
Parent/Carer Meet and Greet
In addition to meeting our new students we warmly invite our new parents/carers to St Aidan's for an individual meeting about your child to discuss their Transition.    Our meet and greet evenings are scheduled for Thursday 13th June 2024 or Thursday 20nd June 2024.
Induction Day(s)
We hold our Induction Days in July.  Our first half day is on the morning of Wednesday 19th June 2024 for those students who are coming either on their own or with one more student from their Primary School.  We also invite students with Learning Support needs into school on this day to meet the Learning Support Team.
Our whole cohort of new Year 7 students will attend St Aidan's on Thursday 11th July 2024 for their full Induction Day.  During this day our new students will:
Meet their form tutor and the rest of the students in their form
Experience a St Aidan's assembly
Experience real life lessons
Enjoy a St Aidan's lunch
Have the chance to see the school
Transition Activities for the Summer Holidays 2023
Reading
English
Maths
WALK and CODE
The values within St Aidan's are grounded in the Christian faith of love, compassion and respect for each other as well as the world we live in.  We encourage all within the St Aidan's community to be guided by our WALK vision.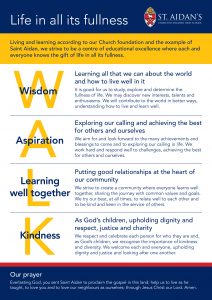 Everyone attending St Aidan's has a right to expect a well-ordered, caring environment that encourages them to do their best.  There is a set of expected behaviours for lessons and around the school and our Year 7 students will be guided through this when they start with us.
We use a CODE for learning and our students are encouraged to demonstrate them in lessons.  Teachers report on CODE in progress reviews.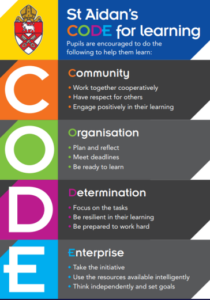 We hope that the above gives a useful overview of our Transition programme.  You may also like to have a look at the following video to get a feel for what life is like in Year 7 here at St. Aidan's.
Further useful links
We look forward to welcoming our new Year 7 cohort in September 2023!