Introduction
Drama is far more than simply an extra-curricular activity. It is an exciting subject that challenges, engages and encourages students to become confident performers and designers with the skills they need for a bright and successful future.
Through the subject, students also demonstrate many of the important skills sought after by universities and identified by the Confederation of British Industry (CBI) as key employability skills, such as self-management and self-awareness; collaboration and respect for others; problem-solving and analysis; and communication and literacy.
Staff
Mrs F Bray – Head of Department
KS3
In Years 7 – 9 Drama is taught within the English curriculum.
For further information please see our Main School Prospectus
KS4
Drama is an inspiring, creative and challenging course. No previous experience is necessary. However, as Drama is very practical and interactive, being enthusiastic and willing to collaborate with others is essential.
GCSE Drama improves confidence and communication skills. The written component is challenging. However, the balance between the practical assessment tasks and the written examination gives candidates the best opportunity to succeed.
For further information please see our KS4 Options Booklet 2022-2024
KS5
A Level Drama and Theatre is an exciting and fulfilling course. It develops and deepens a student's understanding and enjoyment of theatre. Candidates will experience a wide range of theatre and performance styles, both as audience member and director / actor / designer. It is important to have commitment, enthusiasm and confidence in front of an audience.
A Level Drama and Theatre compliments numerous degree pathways and is an ideal subject for anyone considering a career in Law, Teaching, the Media and Public Relations, the Performing Arts industry, or any field of work requiring people skills.
WHY CHOOSE A LEVEL DRAMA?   Year 11 – A Level Drama presentation 2022
For further information please see our Associated Sixth Form Prospectus
Additonal Learning Resources
Please visit Moodle VLE for Drama Resources or speak to Mrs Bray regarding additional learning resources within the Drama department.
Frantic Assembly Workshop 2019
School Production News –  Legally Blonde The Musical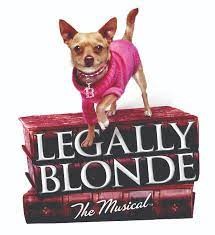 We are thrilled to announce that our next full scale school production for November 2022 will be … Legally Blonde!
This is a hugely uplifting tale about defying expectations about stereotypes and staying true to yourself. We can't wait to see Elle Woods make her journey from Los Angeles to Harvard Law School accompanied by a whole host of characters including a Greek chorus of cheerleaders!
As Elle herself says, "You must always have faith in people. And, most importantly, you must always have faith in yourself."
Auditions for newcomers to the 6th form will be on: Mon 27 June. Details available from Mrs Hendry in the 6th form office.
Auditions for Years 9, 10, 11 and 12 will be on: Wed 29 and Thu 30 June at 3.45 in Mu2.
For further information regarding the auditions, please click here.