Introduction
The Art department provides an environment which nurtures and actively encourages creativity and talent. Practical work develops through an ethos of praise and constructive dialogue between student and teacher. Students are exposed to a wide range of media and techniques and develop their appreciation of art through the generation of their own work and through the opportunity to see artwork in gallery settings. All students are encouraged to have ownership of their ideas and work, developing work with guidance from the teacher.
The Art Learning Journey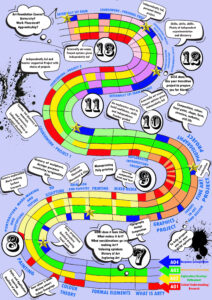 Staff
Miss C Metcalfe – Head of Department
KS3
At Key Stage 3 students learn a variety of artistic techniques such as drawing, painting, printmaking, collage, 3-D and Photoshop. Students increase their image awareness by learning about the power and principles of design to help them navigate an increasingly image conscious culture. Our aim is to promote creative thought and foster learning through a combination of cultural awareness/artist/designer knowledge combined with creative problem solving through self-navigation and experimentation.
For further information please see our Main School Prospectus
KS4
At GCSE we offer courses in Fine Art and Graphic Communication.
The aim of the Fine Art course is to give you a broad experience of a variety of approaches and techniques in Art. Your Art teacher will show you how to source a range of different artists, architects, photographers, illustrators, fashion and interior designers and you will use the ones that inspire you as a launch pad to create your own work.
Graphic Communication at GCSE will give you the experience of a range of Graphic Design techniques. Projects will be set by your Art Graphics teacher, allowing for choice in both materials and outcome. The aim is to develop a wide range of new skills and encourage creativity.
For further information please see our KS4 Options Booklet 2023
KS5
At A Level we offer courses in Fine Art, Graphic Communication and Photography.
Fine Art at A Level is a diverse course which requires students to think for themselves and show initiative and enthusiasm. Students will be able to work in one area in depth, or several areas which demonstrate breadth. Students will have access to producing many types of Painting, Printmaking, Sculpture, Installation art, and Photography. As far as possible the course can be tailored to the interests of the student although certain criteria are common to all projects.
Art Graphics students need to be well motivated and capable of working independently to a given brief. Taking the initiative and developing a personal response are central to the course. This can be achieved through the use of a wide range of media including Illustration, Photoshop, animation, paper engineering and Photography.
Art Photography will enable students to be creative and explore the world around them in their own way. They will be introduced to the knowledge, skills and attributes they need to think creatively and explore the many ways in which a photograph can represent reality.
For further information please see our Associated Sixth Form Prospectus
Additional Learning Resources
Please speak to any of  the art teachers for any additional learning resources.
Social Media Links
Follow St Aidan's Art on Instagram: st_aidans_art