Literacy Week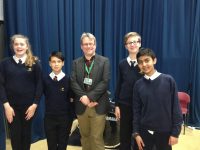 Battle of the Books
During Literacy Week Battle we took a team from  to the annual Literary Quiz for pupils in Years 9 and 10 from local schools competing for the Michael Rosen Trophy.
The 2017 event was held at Roundhay School. . The quiz consists of six rounds of  literary questions, this year the rounds included, who do you think you are, fantastic beasts and the number game. The quizmaster for the event was the author Daniel Blythe. His published works include novels, non fiction and TV tie-ins. It was an exciting, tense evening with our knowledgeable team facing two nail-biting tie breaks before finishing an impressive third place.
Well done to our team from Year 9!
During the week we also held a book stall in the library which raised over £150 for the Harrogate Children's Book Group.