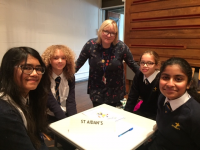 On Monday 5th November, Mrs Parris and Mrs Roth took a team to Bootham School in York to compete in the Yorkshire heats of the annual International Kids' Lit Quiz.
After a hard-fought battle over ten rounds, our team finished in a very impressive third place out of 14 entries, only missing out on second place by half a mark (the teams in first and second place were both from Ermysted's Grammar School, Skipton).
Congratulations to the team for being such excellent representatives for the school.
Caelis Main 7C
Freya Binish 8S
Danni Bousfield 8P
Tanisha Choudhury 8S