Careers Department Notices Week Commencing January 17th 2022 
During your time in the Associated Sixth Form the Careers Department will work with you and your Senior Tutors to help you make Post-18 applications for university, college, apprenticeships and employment or to plan for a gap year. We will also provide further guidance on applying for student finance and replying to offers you receive.
Individual career guidance interviews can be booked directly with the Careers Department within private study periods to help you decide what to do after Sixth Form.
2020 Leavers Figures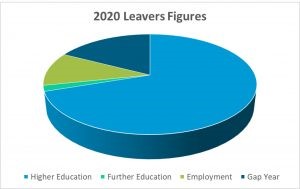 We very much recognise and value the input of parents and carers and are keen to support them in helping their sons and daughters make informed and realistic career decisions. Covid restrictions permitted, parents and carers are welcome to attend career appointments or can contact the department at any time to talk to a Careers Adviser.
Information on Post 18 Options for Year 12 Parents/Carers
As we are unable to host our annual Post 18 Options Information Evening for Year 12 Parents and Carers, we are providing the following recorded presentations to offer information to help parents and carers support their sons and daughters with their Post 18 planning:
Useful Careers Websites: click here