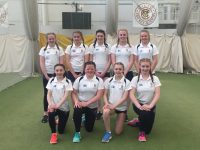 The St Aidan's U-15 girls cricket team competed at the National Indoor Cricket Finals at Lords on Monday 15th May. There were 800 schools that initially entered the competition back in September, which is indicative of the growing popularity of the women's game. The competition was fierce and the standard of cricket was very high. In what was a round robin competition involving five teams, the St Aidan's team came across Old Buckenham High School from Norfolk in their first match. Despite fielding well and taking a wicket with the first ball of the competition, the girls suffered a batting collapse and it was Jess Barker and Maddy Boocock who led the team to victory in the last over.
The team lost their second match against Shrewsbury School who were tipped to win the competition.
As Shrewsbury were beaten by Old Buckenham School in their next match, it opened up the competition and the girls went in to their third match against South Dartmoor School from Devon needing a victory to keep their hopes of winning the competition alive. In what was the match of the tournament, South Dartmoor were put into bat and posted a respectable but achievable score with tight fielding from the St Aidan's team. Needing two runs off the final ball, the youngest player in the competition at twelve years of age got out to a great catch from a South Dartmoor player which shattered the hopes of a top three finish for St Aidan's. The final game was against Felsted School, Essex. Again, a closely fought match resulted in a loss for St Aidan's by just 13 runs and Felsted were crowned national champions.
The St Aidan's girls should be immensely proud of their achievement of becoming the fourth best school in the country for girls cricket.