Teen Tech Awards finalists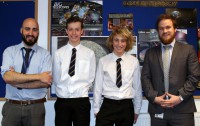 Two students from Year 10, Greg Webber and Robert Maxwell, have made it through to the final of the national Teen Tech Awards.
This is an annual competition which aims to inspire young people to solve problems through the use of technology. There is a wide variety of different categories, including wearable technology, future of food, education and health. The aim of the competition is for students to try and make people's lives better and happier.
Whilst we cannot go into too much detail about the students' entry, we can say that they have developed an App that will improve food safety for a huge number of people.
The Teen Tech Awards are a prestigious event being held at the Royal Society, with a number of VIPs in attendance. In previous years Stephen Fry and Brian Cox are just a few of the big names who have made an appearance.
The two students will be accompanied by Mr Symes and Mr Wilson, the two teachers who led the Teen Tech Awards.