Symphony Orchestra Concert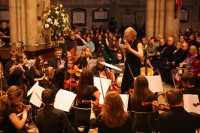 Join St Aidan's Symphony Orchestra on Friday April 24th at St Mark's Church, Harrogate, for an evening of orchestral and instrumental music, featuring the award-winning orchestra as well as solos and chamber items by members of the orchestra.
The 40 strong youth Symphony Orchestra conducted by Mrs Joanne Leonard performs to great acclaim locally and nationally, having twice been given a Special Award at the National Festival of Music for Youth in Birmingham in the last two years. Their programme will include the Polovtsian Dances by Borodin, music from 'Lord of the Rings' and concerto movements by Mozart, Weber and Bach.
The concert begins at 7.30 with tickets priced at £6 (£3 concessions) available from St Aidan's High School Reception (01423 885814), proceeds to Craft Aid International.