Success at the North East England Cross Country Final
Despite the most challenging of weather conditions our runners valiantly battled to victory.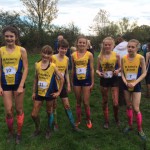 Junior Girls – Year 8
The team ran amazingly well in the most muddy and hilly conditions you can imagine. Helped by their fantastically coloured long socks, they finished 3rd in the North East and so qualified for the national final early in December. Sophia Bottomley, Louisa Welton, Keira Smallwood, Anouk Fawcett, Emily Belcher and Holly McPhee all showed huge levels of determination and effort, not to mention excellent team spirit.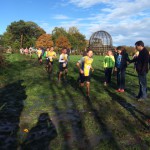 Junior Boys – Year 7 and 8
Again, the boys ran very well indeed battling the mud and the rain as well as the best 12 schools in the North East of England. The team finished 3rd, qualifying for the national finals.  All runners finished very strongly, taking vital places over the last 400m of the race. The team was Jack Briggs, Joe Bryant, Hector Glover, Henry Rhodes, Ben Chumas and Stanley Mills.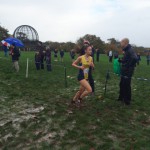 Inter Girls – Year 9 and 10
This first race of the day was in the very worst of the weather, but the girls made the very best of starts establishing themselves right up in the top 20 early on. Anna Beever finished 4th and Freddie Moore 6th, with all other runners running strongly too – Saskia Bottomley, Helena Broadley, Emily Conn and Mya Mills. The team finished 2nd overall, making easy qualification for the national final and beating last year's junior national champions, Skipton Girls, in the process.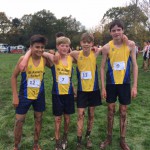 Inter Boys – Year 9 and 10
With just 4 boys competing in the team, all of them needed to finish for the team to count and all 4 ran hard over three very tough and hilly laps. Ben Bhogal was our first runner home, followed by Ben Jacklyn, Gabriel Rhodes and Joe Cawcutt.