Students to exhibit at the Mall Galleries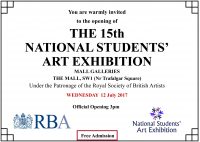 The Art department are delighted to announce that nine pieces of our students art work will be exhibited by the Royal British Academy. The work will be exhibited from Wednesday 13th July in the Mall Galleries, central London.  A maximum of ten pieces can be selected per school so we are extremely proud of the students and art work that have been chosen.
Many congratulations to the all the students involved.
Lucy Bennett                     Year 13
Carina Font                       Year 12
Selina Smylie                    Year 13
Olivia Sharpley                 Year 10
Bronte Rockliff               Year 13
Charlotte Hawksworth  Year 11
Ellis Owen                          Year 13
Emily Bush                         Year 13