Senior Music Concert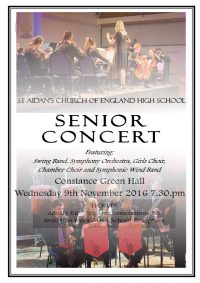 We would warmly invite you all to the first major St. Aidan's concert of the year. The senior concert will take place on Wednesday, 9th November at 7.30pm in Constance Green Hall. The event will showcase our magnificent Swing Band, Symphony Orchestra, Symphonic Wind Band, Girls Choir and Chamber Choir.
Tickets are available from reception and are £6 and £3 (concession).
We look forward to welcoming you.