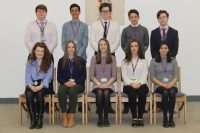 The new student council at St Aidan's High School, known as the Senate, has taken office following an exciting round of election speeches.
The candidates delivered short presentations in order to attract the votes of their peers. There was a high turn-out for the election and the successful candidates are now taking on the challenge of representing the school's students in a range of situations.
The Senate will present the views of their peers at regular meetings with governors and senior members of staff, as well as organising social and charity events throughout the next academic year.
The following students have been elected to the Senate for 2017 – 2018.
| | | |
| --- | --- | --- |
| Alex Birch |   | Celia Atherton |
| Tom Bracewell |   | Jess Clark |
| Frazer Fullwood |   |   |
| Lewis Ikpeme |   | Daisy Sutcliffe |
| Christian McDermott |   | Freya Worle |