Music to Tom's ears!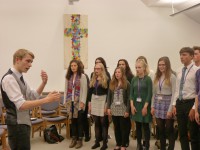 Year 13 St Aidan's A-level music student Tom Knowles has just received the excellent news that he has been appointed Principal Percussionist in the National Youth Wind Orchestra of Great Britain.
As well as this magnificent achievement, Tom will be leading the show band for the school production of Copacabana in early December, and will be conducting his own composition, 'Signifying Nothing' at the Royal Albert Hall next week with St Aidan's Chamber Choir at the Music for Youth School Prom.  Busy musical times for Tom!  We wish him hearty congratulations on all of these achievements.