Her name was Lola, she was a showgirl…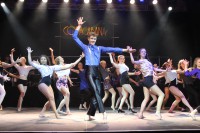 With Barry Manilow's music and lyrics ringing in their ears, packed audiences enjoyed six performances full of music and passion in Constance Green Hall. The musical 'Copacabana' is a riot of songs, humour and Las Vegas style costumes telling the story of how a songwriter imagines the famous song from the 1970s. With a combination of terrific acting, high quality singing, fabulous music and utterly professional technical effects, it was hard to believe this was in fact a school production.
A large number of the principal parts were double cast giving an opportunity to many more students. Anna Wicks and Alice Wright in the role of Lola were perfectly cast as the innocent country girl who grows in confidence and style as she discovers the big city. Becki Stevenson and Annie Wallen gave the audience a wonderful portrayal of the sassy Gladys and were terrifically supported by Dougie Ives who was comedy gold as club owner Sam Silver. Sophia Bonini and Lily Harris were stunning in their characterization of the Latin bombshell Conchita and cowered in the face of the truly evil baddie Rico Castelli cleverly played by Beau Hill-Smith. Sam Daltry and Will Jackson took on the role of handsome, talented Tony with real panache, both demonstrating wonderful singing voices and great comedy timing. The ensemble was what brought the play together and stole the spotlight in many scenes with their dedication and aptitude to musical theatre.