FOSA Glitter Ball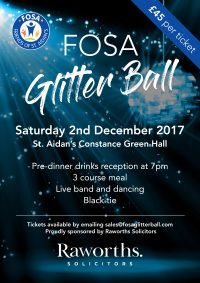 St Aidan's Christmas Glitter Ball
Friends of St. Aidan's is delighted to announce details of this year's Christmas Ball, kindly sponsored by Raworths Solicitors.
It has been a number of years since the last St. Aidan's Ball, and all parents, guardians, staff and friends of the school are warmly invited.
The ball will be held from 7pm on Saturday 2nd December at Constance Green Hall, and will include a three course dinner, plus a live band and entertainment.
Orders are now being taken for individuals / couples / groups, or for full tables of 10.  Tickets cost £45 per head.  Please email sales@fosaglitterball.com to purchase your tickets.
All profits from the event will be donated back to the school in a way that will benefit as many children as possible.  We do hope you'll choose to come along and support the school.