School Productions
The first step to a better audition is to give up character and use yourself – Michael Shurtleff
Drama at St. Aidan's is a high-profile and extremely popular extra-curricular activity for all ages. With no previous experience necessary, this is an ideal opportunity to expand a circle of friends and work cooperatively whilst experiencing aspects of theatre performance. Every year we stage large-scale full school productions with open auditions for all parts.
This November we will be staging Sister Act: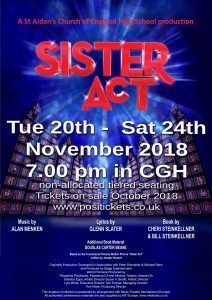 SISTER ACT CAST MEMBER INFORMATION FORM
Take a look at some of our previous shows!
West Side Story-please click on this link
Copacabana
Les Misérables
We Will Rock You
A Christmas Carol
Evita