Enterprising students claim victory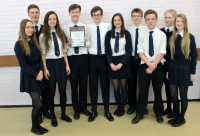 The AMP Business/Enterprise team are group of Year 11 students who are responsible for running the school 'Battle of the Bands' music concert.  Ross Moore (Managing Director) has been instrumental in managing a team of  over ten students since September, each being delegated a specific role within the business.
The group are also responsible for helping to co-ordinate the AMP Awards Final that takes place at the Royal Hall in Harrogate. The team were responsible for the hosting and co-ordination of VIPs. Their excellent negotiation and business skills allowed them to attract a range of sponsors which included promotional gifts from GHD and Rudding Park.
Mr Illingworth has been delighted by their hard work, commitment and work ethic shown culminating in winning the area competition. The group have been guided superbly by Pete Townsend (Business Mentor) who has provided excellent advice and weekly support since September.