Extra Curricular Drama
"Theatre is simply what cannot be expressed by any other means; a complexity of words, movements, gestures that convey a vision of the world inexpressible in any other way" Eugene Ionesco
Drama at St. Aidan's is a high-profile and extremely popular extra-curricular activity for all ages. For Year 7, a drama club meets weekly after school, or as frequently as possible depending on the demands of GCSE and A level practical exams. With no previous experience necessary, this is an ideal opportunity to expand a circle of friends and work cooperatively whilst experiencing aspects of theatre performance. Every year we stage large-scale full school productions with open auditions for all parts.
Forthcoming Events
School of Rock
This November we will be performing School of Rock. The cast information is now available:
SCHOOL OF ROCK CAST MEMBER INFORMATION FORM
Past Productions
West Side Story (November 2016)
Although West Side Story premiered on Broadway almost 60 years ago, it still feels fresh, relevant and exciting in this new production under the skilful direction of Head of Drama, Mrs Fran Bray.
The re-telling of Romeo and Juliet, transported to 1950s New York, retains all of the pathos of Shakespeare's tragedy while updating the story to focus on gang warfare between the local "Jets", mostly of Polish and Italian descent, and the more recent Puerto Rican immigrant "Sharks".  In this melting pot of interracial tension, romance blossoms between Jet boy Tony and young Shark girl Maria.  Add in brutal, unsympathetic police and teenage angst and the scene is set for a touching story of love and betrayal.  The young lovers, perfectly portrayed and beautifully sung by Sam Daltry and Alice Wright, capture the audience's hearts and leave us desperate for a happy ending.
Leonard Bernstein's thrilling score, containing such familiar tunes such as "America" and "I Feel Pretty" is driven by a sterling band under the direction of Mr Mark Pallant; it seems hard to believe that these talented musicians are all aged between 11 and 18! Vibrant original choreography by Ms Susannah Miller and Mrs Catherine Foster further enhances a production that would confidently grace a West End stage, let alone one in a Harrogate school.
Other stand-out performances come from Annie Wallen, whose warm vocals convey the latino fire of Anita,  Nic Cain as the fleet-footed and clear-voiced gang leader Riff and Frazer Fullwood, whose presence as Shark leader Bernado is menace personified. This is not, however, to diminish the contribution of the supporting cast, every one of whom inhabits their character convincingly as we watch the gripping plot unfold.
We were even treated to a professional theatre set (including moving fire escapes and a well-used scramble wall), expertly managed by the crew, and a kaleidoscopic display of vintage costumes that transported the audience back in time.
A well-deserved sell-out playing to packed houses over five nights and entertaining a total audience of around 2,000 people, this production was a towering achievement for the cast, crew and band.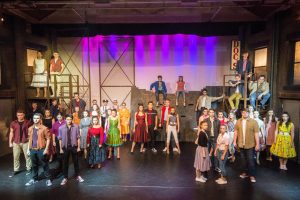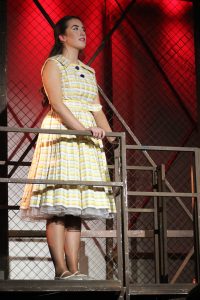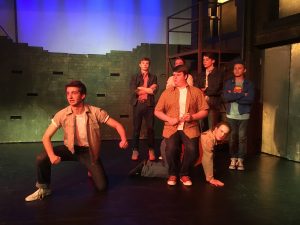 Shakespeare Schools' Festival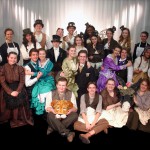 A talented cast of 28 of our students had the audience howling with laughter at the Carriageworks Theatre in Leeds with their interpretation of A Midsummer Night's Dream.  As well as rehearsing at school the cast aged 14 to 18 had the opportunity to work with professional actors and directors in workshops arranged by the Festival, giving them the opportunity to see and feel exactly what it is like to work in professional theatre.
Copacabana
With Barry Manilow's music and lyrics ringing in their ears, packed audiences enjoyed six performances full of music and passion in Constance Green Hall in 2015. The musical 'Copacabana' is a riot of songs, humour and Las Vegas style costumes telling the story of how a songwriter imagines the famous song from the 1970s. With a combination of terrific acting, high quality singing, fabulous music and utterly professional technical effects, it was hard to believe this was in fact a school production.
In recent years we have staged musicals such as Les Misérables, Beauty and the Beast and West Side Story, and theatre including Twelfth Night and The History of Tom Jones and Evita.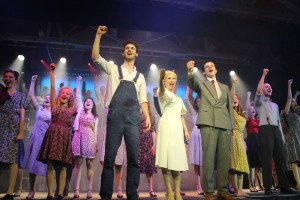 To quote some of Tim Rice's lyrics above hardly does justice to the amazing event that was EVITA.  With a combination of terrific acting, high quality singing, fabulous music and utterly professional technical effects, it was hard to believe this was in fact a school production.
Directed by Mr Andrew MacCallum, the set was pared back to basics with a striking balcony constructed out of scaffolding and scenes created for the audience through the use of images projected onto giant screens.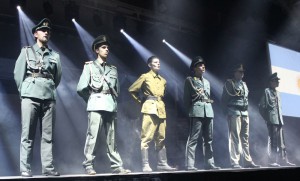 For the first time in a St. Aidan's production, the band was placed in a conventional orchestra pit behind the stage. Mr Mark Pallant, Band Director, led them with panache whilst Mr Tom Pallant, Music Technician, ensured that the sound mix was spot on. Thanks must also go to Year 12 student Ed Taylor for the stunning lighting used to highlight the storyline.
EVITA has just a small number of named character parts and a large ensemble. The chorus excelled themselves in every scene offering us heartbroken mourners, tango hall dancers, aristocrats, soldiers, unionists at a rally and many more roles. The lead roles were consistently excellent. Dougie Ives and Jeremy Davison shared the part of 'Magaldi' the tango singer bringing a delightfully macho approach with great top notes. Singing one of the classic songs of the show were Faye Weerasinghe and Bekki Stevenson as the mistress. Both gave incredible heart and soul to the song 'Another suitcase in another hall' with the audience sharing in their pain and loss.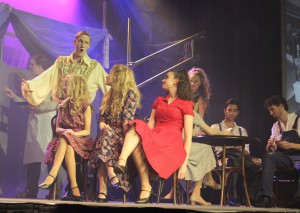 The principal characters added such depth to their roles that they were totally convincing. Jacob Dudman as Peron demonstrated a gravitas way beyond his years and an exquisite voice. Beau Hill-Smith owned the stage as Che, strutting around completely confident of his character and delivering beautiful singing. Taking on the role of Evita, Lydia Bradd was simply stunning. She has a rare combination of gifted singing voice across a very wide range, phenomenal dancing skills and the ability to act and convey every aspect of Eva as she grows from a child to a powerful woman.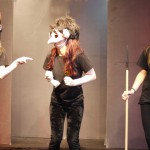 Our Community Theatre Project involves students taking performances and workshops into local primary schools. One performer could actually remember being part of the audience when we visited their primary school some years ago! The tour content varies from year and recent themes have been Aesop's Fables; Myths, Legends and Fairy Tales; and Hiawatha.

The Bedlam Theatre Company
The Bedlam Theatre Company is run entirely by gap year and Sixth Form students, with mentoring and guidance support provided by Mrs Bray, Head of Theatre Studies and Drama at St. Aidan's.  Bedlam gives students the opportunity to experience all aspects of directing and producing a stage show, and provides them with their first real exposure to the broader disciplines and possible career options available within theatre. The skills that the students develop also prove invaluable when they are completing personal statements as part of the university application process. Students who have been part of Bedlam can clearly give evidence of teamwork, effective communication, problem solving and project planning.  They have rudimentary business management experience, as well as the specific and technical skills of theatre and production management.
Most recently they staged the History of Tom Jones, the stage adaptation of the scandalous 18th century comic novel by Henry Fielding. No songs, no scenery: this was a play where the performance was everything.  The production was brilliantly steered by ex-pupils, Edd Soper and Millie Gaston on their gap year tenure as Bedlam Theatre directors.
For information on future Bedlam productions please email bedlamtheatrecompany@staidans.co.uk.