Year 9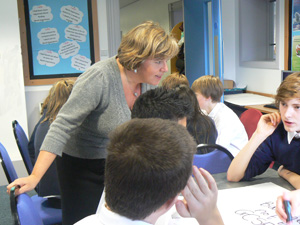 During Year 9 students will receive advice and guidance from the Careers Department to help them make informed decisions when choosing GCSE options. Students will spend time exploring their options both in Key Stage 4 and beyond will also follow a careers education programme in tutorial time to explore their skills, qualities and the decision making process. They will be introduced to Kudos, a computer programme which helps to research career ideas and introduce students to a wide variety of career and study opportunities.
Students are welcome to visit the Careers department and use its library during break time and lunchtime, when the careers staff will be on hand to offer guidance and answer any queries about careers and GCSE option choices.
Discovering Your Qualities and Skills
Recent Events
BBC Presentation to Students
We were delighted to host a visit by the BBC on Friday 22nd February, when they talked to all Year 9 students about career opportunities in the creative industries. Nick Bright, Presenter at Radio 1Xtra and Five Live hosted the event and interviewed Jean Heeley, Head of Crew Engagement at Emmerdale and Nader Mabadi, Senior Production Manager also at Emmerdale, who both provided an informative and engaging insight into careers in media and related industries. Students in Years 10 to 13 also enjoyed a similar talk at lunchtime.