Careers – Lower School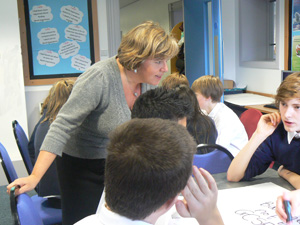 Year 9
Year 9 is an important year in that students will be choosing their GCSE subjects.  The Careers department will assist in the decision making process and students will spend time in the department exploring their options both in Key Stage 4 and beyond.  They will be introduced to New Kudos, a computer programme which helps to research career ideas and introduce students to a wide variety of careers.  They will also receive advice and guidance on how to choose GCSE options.  All students will also follow a careers education programme in tutorial time to explore their skills, qualities and the decision making process.
Students are welcome to visit the Careers department and use its library during break time and lunchtime, when the careers staff will be on hand to offer guidance and answer any queries about careers and GCSE option choices.
Year 10
All Year 10 students will participate in the "BE REAL DAY" during the summer term, which is designed to emphasise the value of work and the importance of lifelong learning. It will introduce them to a wide range of occupations and develop their career management and decision making skills. It will also provide an opportunity to explore and understand some of the social, environmental and economic changes affecting the world of work.
Year 11
Year 11 is a really important year as it is the last year of school for students and they have to decide what they want to do next. The Careers Department can help by providing information, advice and guidance on all the Post 16 Options.
Please use the links below for further information:
Post 16 Options Handout
Associated Sixth Form
Harrogate College
York College
Apprenticeships
The Apprenticeship Guide
Career Guidance Interviews
Individual Careers Guidance interviews are available to students in Year 11 as they decide on their Post 16 Options. We have a team of 3 professionally qualified Careers Advisers who can see students individually and offer them one to one guidance. All students will have at least one careers interview in Year 11 and they can book these directly with the Careers Department or one will be arranged for them between October and March. Parents and Carers are welcome to attend career interviews. To book a careers appointment please contact Mrs Richmond, our Careers Administrator via email s.richmond@staidans.co.uk or telephone 01423 818534.
Work Experience
All students in Year 11 will be offered the opportunity to participate in a work experience programme in the summer term after their GCSE's.  For more information please see the following documents:
Work Experience Programme 2018-2019
Year 11 Work Experience 2018 Employment Partners
Year 11 Work Experience 2019 Parents Evening Information
Year 11 Work Experience – Information Letter & Consent Slip 2018 – 2019
Year 11 Work Experience Placement Form 2018 – 2019
Year 11 Work Experience Frequently Asked Questions
7 Steps to Arranging Work Experience
Guide to Applying for Work Experience Handbook 2018-2019
Writing a Curriculum Vitae
Please follow the link here
If you need any further assistance with your CV, please make an appointment with the Careers department and we will be happy to help you.
For more careers information visit
UCAS
Lots of information on careers as well as details of all the courses and qualifications available to you after Year 11 in North Yorkshire
Kudos
A career matching programme which will help you identify careers to suit your interests and abilities. * You will need to contact the Careers Department for the school's unique password to use this website.
Eclips
Information on possibly every career you could ever think of! * You will need to contact the Careers Department for the school's unique password to use this website.
Tasteofmedicine.com
A really useful website for all you budding medics.
Careers Box
A great source of up to the minute job profile films.
National Careers Service
For careers advice and information on a wide range of jobs, training courses, resources and funding.
icould
Career videos and information on a host of careers.