Dancing her way to success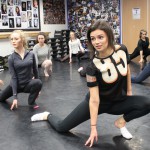 Former student Emily Harrington came into school recently to pass on her knowledge and experience to Dance and Performing Arts students, taking workshops and answering questions about her life as a professional dancer.
Emily left St. Aidan's in 2010 and after a foundation course at SLP college in Leeds was awarded a full scholarship to study Musical Theatre and Dance at the Urdang Academy in London.  She graduated last July and has recently successfully auditioned for Starlight Express in Germany; she will join the cast in February playing the role of Ashley and understudying the role of Pearl. It is a fantastic achievement to land a lead role straight out of college – well done Emily!