Creative writing in Wales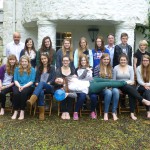 At the end of June, sixteen members of the Associated Sixth From went to Tŷ Newydd, the National Writing Centre for Wales just outside the Cricieth.
The Centre is the last residence of the former Prime Minister Lloyd George; the house is pleasantly situated close to the sea. The students were tutored by the novelist James Friel and the scriptwriter Dan Anthony.
The students collectively wrote a screenplay as well as composing a number of prose pieces.