Creative exhibition in the town centre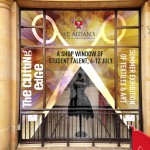 St Aidan's mounted a town centre exhibition in a prominent space within the Victoria Shopping centre between 6th and 12th July to showcase the creative talent of pupils studying Textiles and Art throughout the school.
6th form Textiles Design students developed their organisational and enterprise skills by managing the whole project, meeting Shopping Centre Managers to discuss the display space, brainstorming visual ideas for the window graphic, arranging team T shirts and organising a full 7 day student rota to present a constant promotional presence at the exhibition.
Local visitors as well as those from across the UK, USA, Europe and beyond were unanimous in their praise and amazement at the craftsmanship and original design on show. Huge congratulations to all involved. With grateful thanks to all at Skinny Design, Holberry Signs and Piranha Promotions for their generous, professional contributions to a very successful and high profile exhibition.