Community Partnership Launches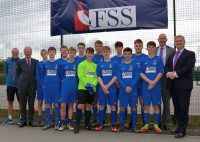 We have recently announced a unique community partnership with a Harrogate property firm that will support our students both at work and play.
As well as becoming the lead sponsor of the sports department and providing the first soccer team with new branded kits, FSS will be working closely with the careers department to deliver leadership coaching, work placements and mentoring.
Chris Burt, Associate Head, said: "This is the first community partnership of its kind for the school and is a really exciting step."
FSS is the only property agent in the area to cover specialist surveying and auctions as well as residential and commercial sales and lettings so there are excellent opportunities for students who have an interest in a wide range of careers such as planning, geography, business, law and finance.
Richard Smailes, partner of FSS, said the collaboration would put the property firm at the heart of the community.
"We see this as an opportunity to develop lasting relationships with staff, students and parents, most of whom will live and work in Harrogate for many years to come and therefore share a mutual interest with us in the future of Harrogate.
"We are working closely with the careers team to ensure we can offer meaningful work experience opportunities and, through our own personal development coach Bev Lockwood, mentoring to help students make informed decisions about their future."
John Stover, Head of PE said: "Richard and fellow partner Simon Croft are both keen sportsmen and we'were keen that the partnership included financial support for the PE department.
"Their sponsorship and support will bring enormous benefits for our students over the next three years and we hope to develop a long and mutually beneficial relationship that continues well beyond that."