Bishop of Ripon Installation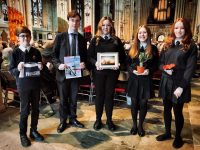 There was standing room only on the 4th February at Ripon Cathedral for the Investiture, Installation and Welcome of the new Bishop of Ripon, Helen-Ann Hartley. Five St Aidan's students and Mr Wood were honoured to be asked to lead the prayers for her future ministry in the Diocese and gave her a gift symbolising an aspect of that ministry. (L-R) Freddie prayed for Lay Minstry and Service and gave a Yorkshire Teatowel; Christian prayed for the wider Diocese and gave a copy of Yorkshire Life… magazine; Niamh prayed for rural ministry and gave a framed photo of the Yorkshire countryside; Maddie prayed for Education and presented a young olive tree; Anna prayed for the Armed Services and presented a poppy.
The service was a grand and celebratory occasion with, amongst many other diocesan and civic dignitaries, the Archbishop of York, John Sentamu, the Bishop of Leeds, Nick Baines and Maori Anglican priests present, reflecting the fact that Bishop Helen-Anne has most recently been Bishop of Waikato in New Zealand. We hope it will not be long before we are able to welcome her to St Aidan's.