An innovative idea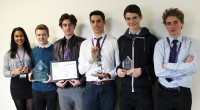 It has been a superb year for 'Record Innovations' who have represented the school in the annual LEAP Enterprise Awards last week, at Allerton High School.
They competed with 30 other LEAP enterprise companies and managed to win the following trophies/awards for the school:-
Best Marketing Award
Best Enterprise Award – cheque for £50
Best Trade Stand
Best Social Media Award
The company were also nominated for Best LEAP company but fell short to GSAL finishing a close second.
Record Innovations have been expertly led by Dan Hawkins (Managing Director) who has managed over 12 employees through out the year. They have gained valuable business skills and business experience, each working in specific roles. Record Innovations specialised in making a range of recycled clocks out of old vinyl. These have sold very well indeed making the company over £400 in net profit with  £1200 in sales revenue.
A big thanks to Tony Armstrong (Business Adviser) whose expertise and experience proved a decisive factor in their success