A real snapshot of talent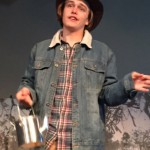 Snapshot Youth Theatre Company, touring from Perth, Western Australia joined forces with some of the best St. Aidan's talent to create two halves of an evening showcasing a wide range of performing arts on Thursday 14th January.
Following Snapshot's short play 'A Land of Legends', depicting some of the most important moments in Australian history as seen through the eyes of two bushmen, St. Aidan's pupils produced an eclectic mix of genres celebrating speech, drama, music and dance excellence throughout the school. Tom Priestley, recent winner of the Year 7 Public Speaking Competition, re-enacted his winning speech, appropriately entitled 'Australia'.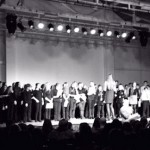 Finally the whole combined company united both hemispheres by combining to perform 'Proud' by Heather Small.  A perfect reflection of why we should feel very proud of them all!