A dream comes true for St. Aidan's students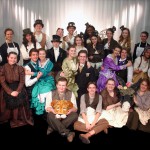 A talented young cast of students from St Aidan's had the audience howling with laughter at the Carriageworks Theatre in Leeds as part of the prestigious Shakespeare Schools Festival.
Their performance of A Midsummer Night's Dream had a capacity audience roaring their approval. This was truly an ensemble performance, with every member of the cast filling their character with a life and vibrancy that was truly deserving of a professional stage. The sense of fun was contagious, drawing spontaneous laughter and applause. Shakespeare is all about telling the story. And this was a tale well told.
The play is a classic Shakespeare comedy, given a visually stunning interpretation by director Fran Bray, Head of Drama and Theatre Studies at St Aidan's. She said: "This play was the very reason I fell in love with drama, and it has been a delight working with this cast. I am so proud of what these students have achieved."
As well as rehearsing at school, the 28 strong cast, aged 14 to 18, had the opportunity to work with professional actors and directors in workshops arranged by the festival. Fran Bray continued: "This is an experience the students will remember for a long time. It is an opportunity to see and feel exactly what it is like to work in professional theatre. For many of our past students, The Shakespeare Schools Festival has been a springboard into professional acting careers."
Drawing special comment from the Festival Appraiser was the use of costume and props, all made by Fran Bray. Not for a moment overshadowing the performances, the Victorian dress, the Steampunk fairies and the simply magnificent Ass's head simply added to the spectacle. Truly a night to remember for cast and audience alike.